David and Linda Eade knew their Costa Blanca home was right for them the moment they stepped inside for the first time with their HomeEspaña agent.
The Eades, who live on the Sussex coast, got the keys to their two-bedroom apartment in Villamartín in October 2017. They found the property, which is in a small block of four units, during a viewing trip in August that year, when they agreed a purchase price of €79,000 through HomeEspaña.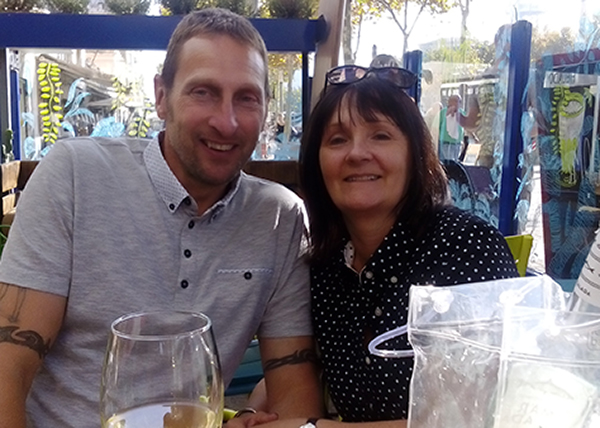 "We saw lots of properties," said Linda. "But as soon as we walked into our apartment, we said we'd have it. We were lucky. The property came on to the market on a Friday and we were the first to view it on Monday, when we made an offer. HomeEspaña was great during our trip and gave us a good overview of the area, taking into account our property wish-list. We wanted to be on a top-floor and have a solarium, and be close to bars and restaurants without being right on top of them. Our apartment is all of that, plus it is not overlooked and as a bonus, the solarium is reached by internal marble stairs, rather than metal, external ones. We also have access to a communal pool."
The Eades, both in their fifties, will use their apartment as a holiday home and once they have retired in a few years, their plan is to spend a few months of the year there. Meanwhile, their two children and two grandchildren, and David's son, will also be offered use of the property. They have no plans to rent to holidaymakers.
"The location is ideal," continued Linda. "A 10-minute stroll away is a new commercial area, with lots of new bars and restaurants, with other options 10 minutes in the other direction. Not forgetting, Villamartín Plaza is about 20 minutes' walk away. The beach is 5-10 minutes' drive, or an hour's walk. David is pleased too, having three golf courses nearby. We were out in November (2017) and already have four more trips planned during 2018."
About HomeEspaña, Linda enthused: "Our agent was really helpful, driving us around, dropping us off to visit places and taking us out to dinner. And when we mistakenly ended up in Torrevieja on our way back to the airport, he came and rescued us. HomeEspaña's aftersales has been excellent too. When we had our offer accepted, they helped with all the formalities, such introducing us to a notary and a local bank. Overall, the transaction was plain sailing."