We swapped Denmark for the Jalón Valley
Johnny and Majken Kloster are over the moon with their retirement home in the Costa Blanca, bought with the help of HomeEspaña when they moved to Spain from Denmark.
The couple, both in their mid-sixties, got the keys to their three-bedroom villa in the Jalón Valley, just 20 minutes from the coast at Moraira, in March 2018. They knew it was the right property for them without even visiting it. After beginning the hunt for their dream Spanish home at the start of 2017 and spending March and April that year in Moraira, they were well acquainted with the area and knew precisely what they wanted.
"We spotted the house on the internet in December when we were back in Denmark and wanted to make an offer," said Majken. "But when we spoke to Andrew at HomeEspaña he told us that we were too late as the property had been reserved by another buyer the day before."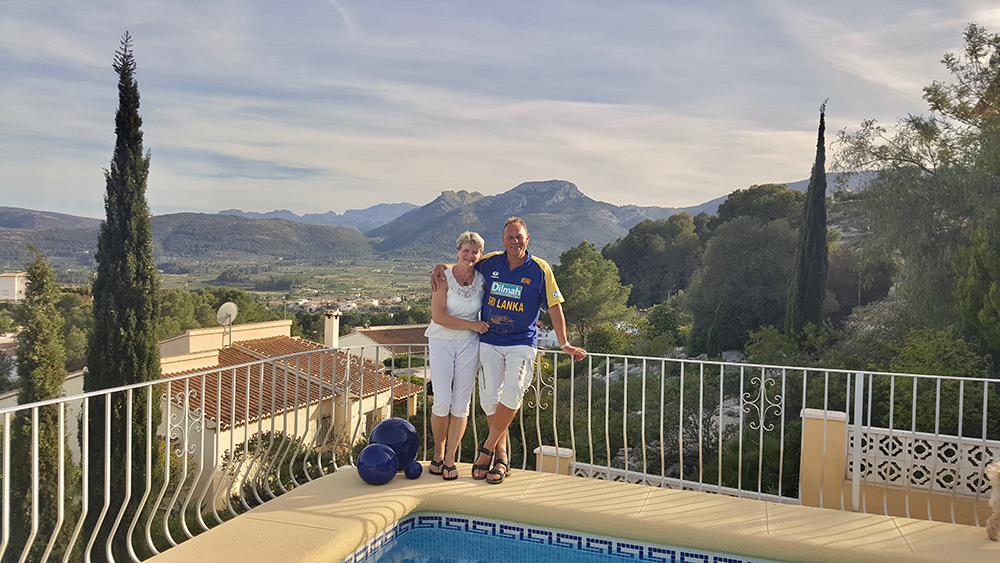 Johnny and Majken, who have children and grandchildren, had already suffered one disappointment the month prior – after reserving a property, they had pulled out of the purchase on the advice of their lawyer. This made them determined not to let another purchase fall through.
"We noticed that the property was never marked as 'reserved' on-line, so we always had hope it might still be available," continued Majken. "Meanwhile, on 30th December 2017 we moved to Spain permanently with our two dogs, deciding initially to rent. We'd already sold our home in Denmark, in a town called Jyllinge, along with most of our furniture and our car."
As luck would have it, the Klosters' inkling about their property was correct. The first buyers never paid the required reservation deposit, allowing Johnny and Majken to visit and secure their perfect retirement home on 11th January!
The couple's villa is part of a small complex on the edge of Alcalalí, a traditional old town known for its medieval tower and surrounded by the almond and citrus groves of the Jalón Valley. Their property includes a large under-build, which could be converted into an apartment, a garden and saltwater pool. They have fantastic views of the countryside.
"Initially we had thought about buying in Moraira, which we love, but decided it gets too touristy in the summer, plus it's more expensive," said Majken. "We prefer this location as it's peaceful, with natural scenery and the Spanish people and lifestyle are more authentic. We are keen to integrate into the local community. As well as learning Spanish, we have joined local clubs. Johnny especially enjoys playing table tennis and going out on his road bike. HomeEspaña have been fantastic and we are grateful to them for helping us to make our dream come true."