Valencia Hits Right Notes
[spacer height="20px"]Combining a peaceful, scenic location with easy access to the cultural highlights of Valencia's city centre, the house HomeEspaña found for musician George Moult couldn't be more fitting.
George moved into his three-bedroom villa in a rural community near Turis, south-west of Valencia, in July 2017. After decades working hard as a piano teacher, he decided to move to an authentic corner of Spain where he could focus on composing music and enjoying his retirement. His search for his perfect home took him to Valencia, where he fell in love with the city and its rich arts and music scene.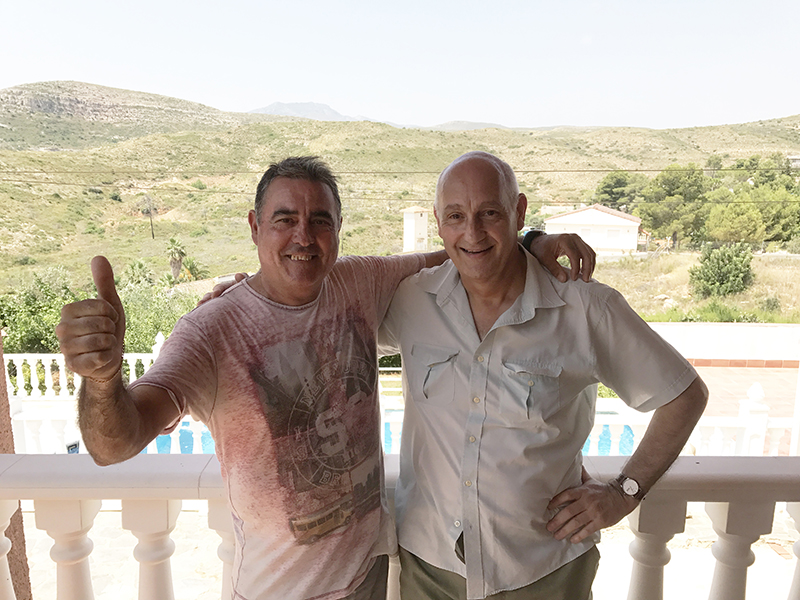 "I first viewed my house during a viewing trip in April 2017," said George, who relocated from Southampton. "My HomeEspaña agent Conor suggested we visit the property, as the Spanish vendors had just dropped the price by a fair bit, bringing it within my price range. I loved it from the get-go and to avoid losing it to another buyer, quickly offered to pay the asking price of €110,000. Before flying back to the UK, I had paid a reservation deposit, opened a local bank account and appointed power of attorney to a solicitor in Valencia. My solicitor completed on my behalf on July 13th and I arrived and moved in the following day. HomeEspaña were very professional throughout and thanks to them the purchase couldn't have been easier."
George's new home is located in the hill-top urbanisation of Altury, equidistant from the towns of Turis and Montserrat. It sits on a 900-square-metre plot that includes a pool, orchard, front and rear patios, and an independent summer kitchen with kitchen and washroom. Ready to move into and with all services connected, its previous owners, who lived in Valencia, used it as a second home.
"Particular highlights for me are the uninterrupted mountain views and the large room built into the sloping garden under the pool, which happens to be one of the best places to enjoy the views," continued George. "Being such a tranquil, relaxing spot, I am making it my music studio. Already, I am noticing how much easier it is to compose here compared to back in the UK!"
For groceries and basic amenities, Turis and Montserrat are both under 10 minutes' drive. When he visits Valencia, George either drives into the centre or leaves his car at the nearby town of Picassent and jumps on the metro.
"Valencia is a lovely city and so cultural," enthused George. "With opera and concert halls to visit, it's ideal for me. And I love that they play classical music on the metro – the doors shut and the next thing, you're listening to Mozart. What more could you want!"
[spacer height="20px"]