[spacer height="20px"]In late 2014 we (Steve and Barb Sealeaf) started to look at purchasing a property in Spain and, after doing our homework on the internet decided to visit the 'A Place in the Sun' roadshow in Manchester in 2015.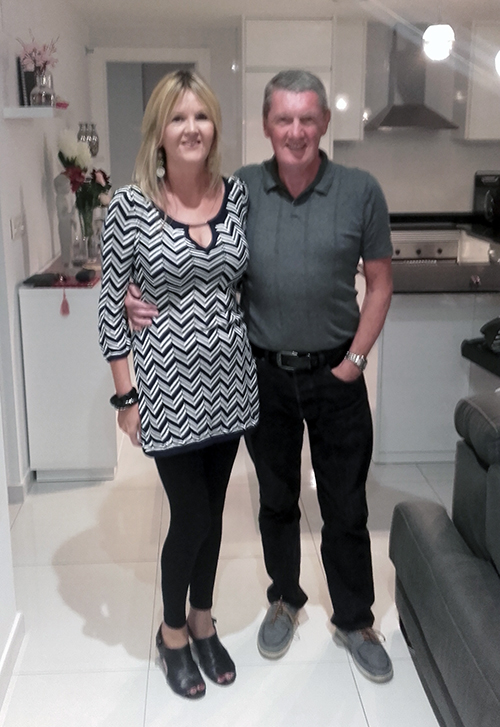 When visiting the roadshow we had every intention of buying a property on the Costa del Sol, but when going around and visiting various stalls and listening to people it became apparent from all the advice given that we should also look at the Costa Blanca. We chose HomeEspaña to help us look at properties on the Costa Blanca.
We then booked a six week holiday in Spain with a view to looking at properties in both the Costa Blanca and the Costa del Sol.
We met up with Steve Root, a HomeEspaña Sales Director and representative, and informed him that we were open to either resale or new build properties and let him know what we were looking for i.e. three bedrooms, two bathrooms etc. After visiting properties in Punta Prima, Playa Flamenca, Campoamor and Lo Pagan, to name but a few, we quickly became aware that the new build option was the way forward for us and we started our search, with Steve's help and experience.
After visiting various locations and numerous properties, we found a new build in Torre de la Horadada. On viewing the property, Steve mentioned that because the build was in its early stages we could make various changes to the plans, within reason, and after speaking with the builders this was agreed.
When speaking with Steve and the builders, and being completely open, we informed them that we still had to visit properties on the Costa del Sol. This was not a problem and the property was put on a retainer list while we went down to the Costa del Sol.
We were so impressed with the Torre de la Horadada property – the location, the beach (within 300 meters) and especially the quaint little Spanish square – that we fell in love with the place. We, therefore, went back to our holiday apartment packed our bags and drove to the Costa del Sol a week early.
Three days later, on our return, we met up with Steve and agreed to purchase the property in Torre de la Horadada. Without the help, experience and excellent customer service shown by HomeEspaña, we would never have found this property.
A great big thank you to all involved at HomeEspaña, especially Steve Root who made our search and viewings for a property an excellent very enjoyable experience.
We now look forward to many nights, sitting on the solarium, enjoying Spanish cuisine and wine, while viewing the fantastic scenery.[spacer height="20px"]