The dream of starting a new life in Spain is becoming a reality for Kevin and Lynn Webster, thanks to HomeEspaña finding the couple their ideal home near the city of Valencia.
The couple got the keys to their detached villa at the start of February 2018, buying it outright for €150,000, excluding costs. Their new home is part of an urbanisation on the edge of Olocau, a pretty town under the Sierra Calderona mountains, just 10 minutes' drive from Llíria and 35 minutes from the centre of Valencia.
"Our home in east London is on the market and as soon as it's sold, we're moving out to Spain," said Lynn in mid-February 2018. "Our two adult children are staying in the UK but we're taking our 15-year-old daughter and 12-year-old son. Moving to Spain is something we'd always thought about doing, to give the children and ourselves a better life. It was when Kevin, a chef, came into some inheritance, we realised we could fulfil that dream."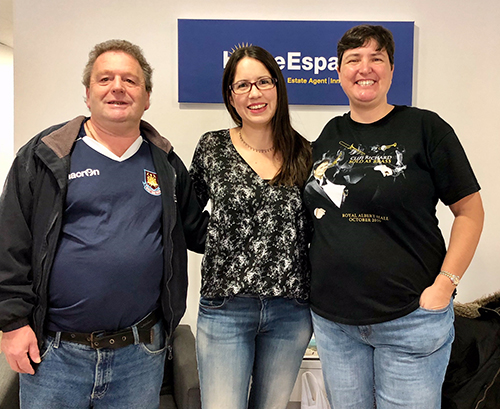 The Websters first looked at relocating further south in the area around southern Murcia and Almería, but after a trip there in February 2017 decided it wasn't right for them. After browsing the internet, they discovered the Valencia region and were attracted to properties offered by HomeEspaña.
"So we flew out in August and met up with HomeEspaña's agent Conor," continued Lynn, who worked in a school. "He was very helpful and suggested we should see what we could get if we stretched our €100,000 budget a bit more. Sure enough, we didn't just love the Olocau area but fell in love with the fourth property he showed us and bought it. You really get a lot for your money in Valencia, especially compared to London.
"Throughout the buying process, HomeEspaña were great, referring us to a solicitor, who was excellent, and helping us with things like getting a survey and opening a bank account. They were especially understanding when we had to put back completion day twice, rearranging new dates for us. And the after sales team have offered to help us with anything going forward, such as getting a car, and setting up Satellite and internet connections."
The Websters' villa came furnished and in excellent condition and includes four bedrooms, two bathrooms and a large living/dining area. It sits on a 1,000-square-metre plot, with a large private pool, solarium, outside shower and WC, and landscaped garden. It is a short walk from the urbanisation's social club, bar and tennis courts.
"The area is ideal for our needs," added Lynn. "The children will go to English-speaking schools and our plan is to set up a small business of sorts for a bit of income. Our villa is close to the local towns of Olocau and Llíria, and while they are mainly Spanish there are other expats around if you need them. In the UK, we're used to having central London 20 minutes away, so we like the thought of Valencia being so accessible. We love the city's old quarter and beach, and being big football fans, we've already been to Valencia's stadium – we know who we'll be supporting now!"