Chris and Sally Hollingsworth have fulfilled their dream of living in a Spanish community with easy access to the excitement of Valencia city, thanks to help from HomeEspaña.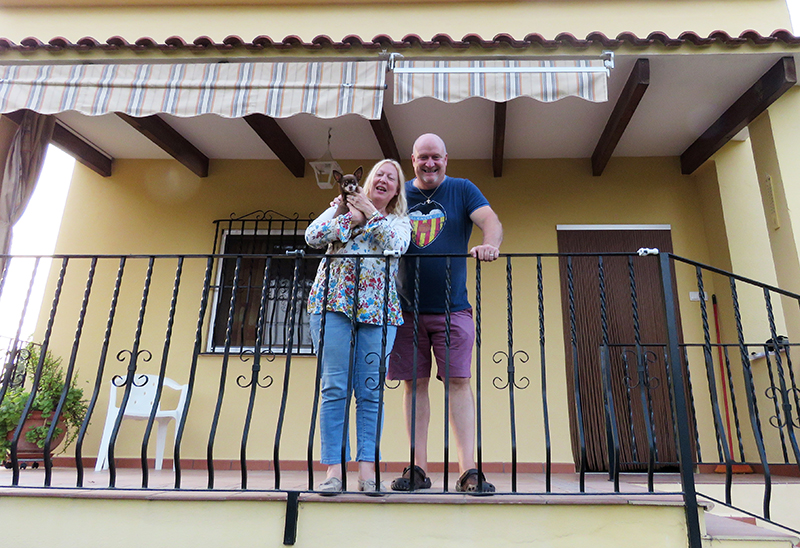 The retired couple moved into their detached villa in the town of Llíria in July 2017, after first viewing the property in March. They are just a 20-minute drive or 40-minute ride on the underground from the centre of Spain's third largest city.
"The property had been advertised for €120,000 but we agreed on a purchase price of €110,000," said Chris. "The Spanish vendors had used the property as a second home and really looked after it, so nothing needed doing before we moved in. We had already sold our UK home in Sevenoaks, so were able to move in just five days after completion."
"HomeEspaña were really helpful throughout, especially our agent Terry, who picked us up from the airport and took us to our hotel when we came out. They also put us in touch with a lawyer in Valencia and helped us get everything in place for a smooth completion. Their aftersales service has been excellent too – Raj even helped us to set up our Internet and Satellite connections. We know we can call on them to assist with anything in the future."
Chris and Sally, who have five adult children, searched up and down Spain's coastline for their perfect retirement home, before discovering the city of Valencia and its surrounding towns, which ticked all the right boxes.
"We're not beach people and didn't want to be near tourist areas or in a typical resort like you find on the Costas," added Sally. "Llíria is a lovely Spanish town with all the key amenities we need as a retired couple with a dog, including a hospital and vets. And, of course, we can get into Valencia easily – we usually go on the underground, which is cheap at about £2 each way."
The Hollingsworth's villa is part of the Chuliesa urbanisation, which lies just outside Llíria across the CV-35 motorway. Their property was built in 1980 and sits on a 700-square-metre gated plot with a grassed area at the front. To the side is a patio area, while the rear includes a private pool, gazebo area, small citrus grove and summer kitchen area, with washroom and shower. Inside is the living area, separate kitchen, three bedrooms and a bathroom. There is also a large basement area, which the couple plan to convert into a fourth bedroom, and a double garage.