Life in the Orange Groves
Andrew and Sue Campbell have no regrets about relocating to a rustic corner of the northern Costa Blanca, made possible by HomeEspaña finding them a home among the orange groves.
The couple picked up the keys to their detached villa near the town of Pego, inland from the resort of Dénia, in mid-December 2017. They first visited the property during a trip to Spain in May that year.
"While there we viewed about six properties with Nick from HomeEspaña," said Sue. "We really liked one of them – a large detached house overlooking Pego. So we asked Nick if we could squeeze in a second viewing before we flew home – to do it, he kindly interrupted an afternoon out with his wife! As we made our way through the orange groves towards the house, I was reminded of Chris Stewart's fabulous book Driving Over Lemons. I had to pinch myself! We were both smitten by the property – and especially by the views. A week or so later we made the vendors an offer of €345,000, which they accepted, and we duly paid the required deposit in June.
"We were able to move out for good in December, after Andrew had retired from the fire service. Everything went like clockwork, which we found a little surprising as we had heard and read so many negative stories about problems associated with buying in Spain."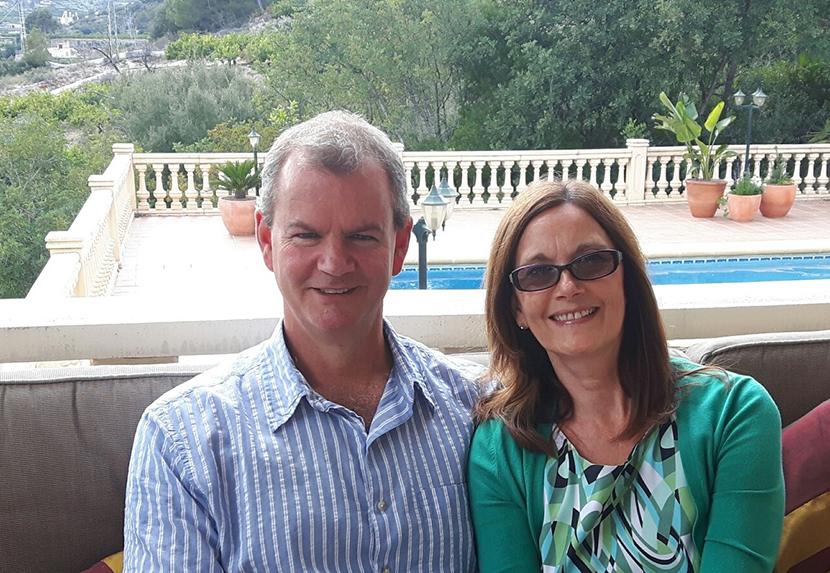 The Campbells had been quite specific about the location of their new Spanish home. After years of living in inner-city Bristol, they craved space and some peace and quiet, but they also wanted to be close to uncrowded beaches and not far from an airport with good UK connections.
"We'd explored other parts of Spain but plumped for this area as we liked the combination of mountains, coast and countryside, but especially the unspoilt sandy beaches. We are just outside Pego, a typical working, agricultural town, and the larger town of Oliva is just a few kilometres away. There are expat communities if you want to dip into them and access from the UK is excellent, with the option of flying from Valencia and Alicante airports."
The Campbells' new home is surrounded by orange groves criss-crossed by quiet roads perfect for late-afternoon walks. Yet they are still only 12 minutes' drive from the wonderful untouched beaches that run south from Oliva. The property sits on a three-acre plot, which includes terraces with fruit trees, and to the side of the house there is a swimming pool surrounded by a large terraced area.
Inside are four or five bedrooms – depending on usage, including one in the large under-build that's ideal for guests. There are three bathrooms, an extra toilet, a large living/dining area that leads to a veranda, a utility room and kitchen. The main bedroom also has a veranda.
The couple have plans to modernise the kitchen and upgrade two of the bathrooms over the next year or so. Andrew is currently busy landscaping the various garden areas and taming three overgrown fruit-tree terraces.
Meanwhile, they are full of praise for HomeEspaña: "We can't fault the staff at the Dénia office and we have already recommended HomeEspaña to other people. During the buying process we communicated with Michelle who always answered our queries promptly. She also put us in touch with Home Finance, through whom and we arranged our house insurance. Michelle also recommended an internet and mobile phone provider – another area often fraught with problems if website message boards are anything to go by!"