We're so glad we stopped in the Costa Blanca
Relocating to Spain has worked out a treat for retirees Phil and Maxine Adam, who found their perfect home in the Costa Blanca with the help of HomeEspaña.
The Adamses moved into their three-bedroom villa in Jávea at the end of April 2018, less than two months after deciding to buy it and paying the required deposit. They agreed on a purchase price of €350,000, which included some furniture.
It's thanks to a bit of luck that the couple discovered the northern part of the Costa Blanca, and subsequently bought there. After selling their home in Sussex at the start of February 2018, they jumped in their motorhome and headed off to start a new life in Spain.
"Our grand plan was to end up living in the Costa del Sol," said Maxine. "We had lined up an apartment to rent in Fuengirola for two months, while we looked for a new home there. As we were driving down in the motorhome, we thought we'd stop in other parts of Spain, just to have a look. Of course, we got to Dénia and really loved the whole area. We even viewed a few properties before carrying on down south. A few weeks after arriving in Fuengirola, we decided it wasn't for us so hired a car and drove back up to the northern Costa Blanca to look for a home!"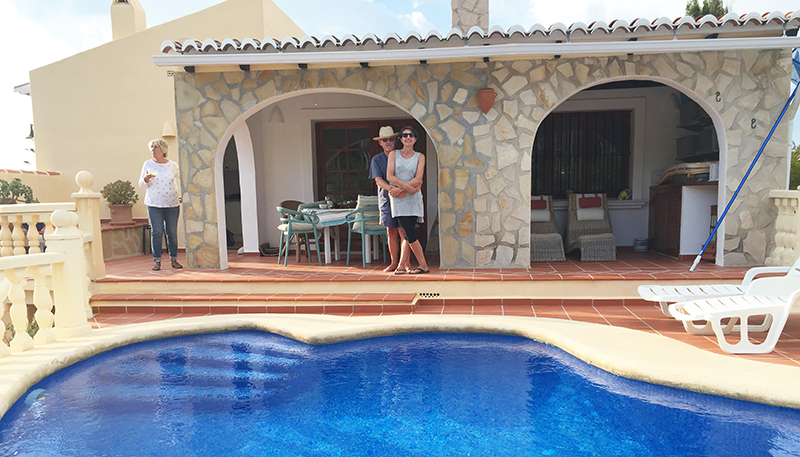 Phil and Maxine decided to extend their search beyond Dénia to Jávea. Their HomeEspaña agent Liam showed them around 14 properties and it didn't take long to hit the jackpot.
"Liam lined up two perfectly smooth days visiting all the properties that I had selected," continued Maxine. "He was a great guy to be around, professional and easy to get on with. And Michelle in aftersales was a huge help too – she too was very professional and always replied to our emails or phone calls. The lawyers recommended to us were also first class. The whole process has been a good, positive experience."
Phil and Maxine's south-facing villa includes a private 8x4metre swimming pool, a tropical landscaped garden and a large terrace with stunning views. Inside and all on the same level are a large kitchen, open-plan living/dining area with wood-burner, en-suite master bedroom, family bathroom and second twin bedroom. Underneath is an independent one-bedroom apartment.
"Jávea has so much variety," said Maxine. "We can visit the lovely Arenal beach area or take a gentle stroll to the port and quaint old town. And being well away from the busy A-P7 motorway makes it all very peaceful."