[spacer height="20px"]For Julie and Steve Shooter retiring can't come soon enough, now that they have a Spanish bolt-hole to visit, bought through HomeEspaña.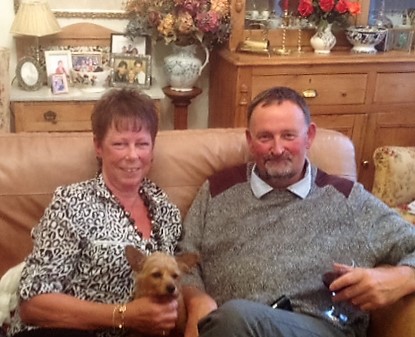 The Devon couple, who are approaching retirement, decided 2016 was the year to buy a Costa Blanca holiday home, for themselves to enjoy as well as their two children and grandson. They completed their purchase at the end of September, paying €140,000 for a fully furnished townhouse in the resort of Torre de la Horadada.
"We live in Exmouth fairly near the beach and we love it here apart from the weather," said Julie. "Our place in Spain is also about 10 minutes' walk from the beach, as well as bars and restaurants, which was a 'must' for us. The property is everything we'd hoped for. Certainly when we retire we will be spending more time there."
The Shooters first saw their property in August, when they spent two days viewing a selection of properties with HomeEspaña. They made an offer just two days later.
"Once we had the offer accepted, HomeEspaña saw us through the whole buying process, helping us with our bank account, our solicitor and at the notary's. Everything and everyone stood out at HomeEspaña – the team were all so helpful, as well as being very nice people!"
The Shooters' townhouse has two bedrooms and comes with access to a communal swimming pool. They have no plans to rent it out.
So why Torre de la Horadada? "We really like the fact that there are no high-rise developments there and while it's not too touristy, there's still plenty going on," said Julie.
Named after the landmark 16th-Century Horadada watchtower, Torre de la Horadada is at the southern tip of the Costa Blanca. It has three Blue Flag beaches, a large lively square offering a selection of bars and restaurants, and its own marina, formerly a fishing harbour. A highlight is its long beach promenade, connecting it with Mil Palmeras to the north and El Mojón to the south. Its location also means it is just 15 minutes' drive from the Murcia-San Javier airport and around 45 minutes from Alicante airport.
The Mar Menor lagoon and famous La Manga strip, with its sandy beaches, are close by too, while a short drive up the coast takes you to the other popular resorts of the Orihuela Costa, the La Zenia Boulevard shopping mall and a choice of championship golf courses.