We bought and sold with HomeEspaña
Michael and Coralie Matthews were able to celebrate twice when they moved to the Costa Blanca, thanks to HomeEspaña first finding them a new home and then selling their old one, all in the space of just six months!
The Matthews, retired and from West Sussex, moved into their three-bedroom villa in the Los Dolses area of Orihuela Costa in November 2017. They first viewed the property with HomeEspaña during a viewing trip in July that year, when their offer of €220,000 was accepted. The couple already owned an apartment in the area, which they decided to sell after relocating to Spain.
"We owned our apartment for 12 years and originally had planned to retire there," said Coralie. "Then in spring 2017 we met HomeEspaña at the A Place in the Sun Live exhibition in London and decided to go out to Spain and look at some houses with them. All five properties we visited were lovely but we fell in love with ours immediately. So, with some guidance from our agent, before returning to the UK we made our offer."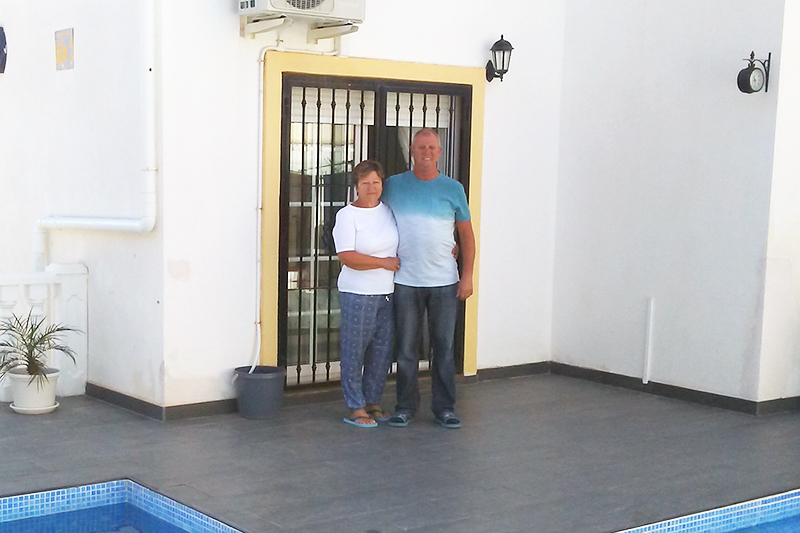 In order to complete their Spanish purchase, the Matthews had to wait for the sale of their Sussex home to complete. However, a delay in the UK, caused by something out of their control, threatened to complicate things.
"The vendors in Spain, who were also English, were getting a bit twitchy and started talking about compensation," said Coralie. "Thankfully, HomeEspaña were really helpful and were able to manage the deal so that they were happy to wait. In the end, we sold our UK home at the start of November and moved to the Costa Blanca shortly after."
By Christmas 2017, Coralie and Michael had decided it was time to sell their empty two-bedroom apartment. A ground-floor unit with a large terrace, it was located on the Dream Hills urbanisation in Los Altos.
"We asked HomeEspaña to come and value it for us," continued Coralie. "Amazingly, by the following day they had found us a buyer who offered us the asking price!"
Back at their new home, the Matthews are looking forward to their life in the Spanish sunshine. They have begun hosting friends and family, including their twin sons, daughter and four grandchildren.
"We're very happy here," said Coralie. "The location is a highlight. It's not noisy as we look on to a park and there are no houses in front us. But we're still just a 10-minute walk from three commercial centres, with shops, bars and restaurants. Outside we have a selection of terraces, our own pool and a solarium. We bought it furnished but have started updating the furniture."