Last week the city of Valencia was invaded by giant fruit and vegetables! Statues were dotted around the city with a label 'HortAttack' at the foot of the figures. Curious bystanders gawked at the amazing sculptures and looked for a clue that solved the mystery.
The purpose behind the HortAttack? To celebrate Valencia's title as World Capital of Sustainable Food, awarded by the Food and Agriculture Organization. The reasoning behind the invasion of fruit and vegetables was to raise awareness to citizens to eat healthier food. The creative campaign celebrates and promotes local foods in Valencia.
It began on Monday with a giant orange in the Plaza de Manises, a pepper in the Plaza de la Virgen, a lemon in front of the Estación del Norte, an eggplant at the palace of the Marques de Dos Aguas and a tomato in front of the Torres de Serranos. On Friday, the fruit and vegetables lined up together in the Plaza Ayuntamiento. Passers-by took the opportunity to get a picture with the fruit and vegetables, the town hall providing an attractive background.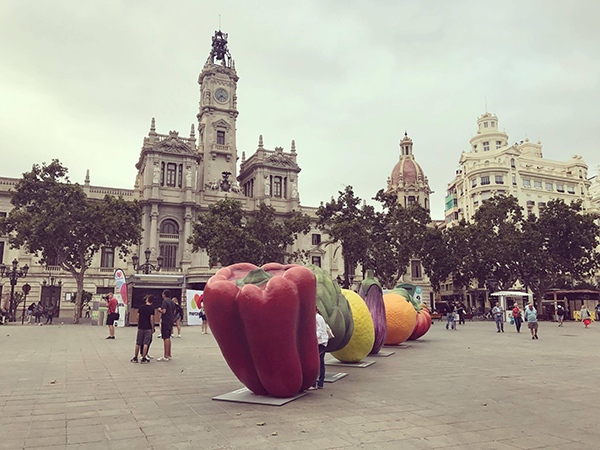 The HortAttack campaign coincides with an important meeting taking place next month in Valencia. The city is preparing for the international meeting of over 100 mayors to discuss the Pact of Milan. The discussion, taking place the 19th till the 21st of October will focus mainly on supporting healthy and sustainable food.
The success of the innovative campaign was reflected in the hashtag #HortAttack becoming a trend on Twitter. Valencians and tourists throughout the city uploaded pictures of the gigantic statues on their social media accounts.